Classic Steak Diane
Looking for a classic steakhouse dinner? Steak Diane is the answer. Served with a creamy pan sauce made with mushrooms, shallots, Dijon-style mustard, and brandy, this recipe will have you skipping reservations more often.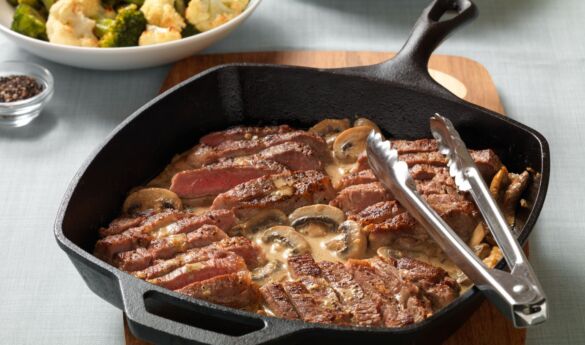 Ingredients
2 beef Strip Steaks, Boneless, cut 1 inch thick (8 ounces each)
1 teaspoon grated lemon peel
1/2 teaspoon salt
1/2 teaspoon pepper
1 pound sliced mushrooms
1/4 cup minced shallots
2 tablespoons brandy - You may substitute reduced-sodium beef broth for brandy.<br/>
1/3 cup whipping cream
2 tablespoons fresh lemon juice
1 tablespoon Dijon-style mustard
1 tablespoon Worcestershire sauce
30 Minutes
6 Servings
327kcal Calories
30g Protein
Cooking
Combine lemon peel, salt and pepper in small bowl; press evenly onto steaks. Heat large nonstick skillet over medium heat until hot. Place steaks in skillet; cook 12 to 15 minutes for medium rare (145°F) to medium doneness (160°F), turning occasionally. Remove steaks; keep warm.

Add mushrooms and shallots to same skillet; cook 3 minutes or until tender, stirring occasionally. Add brandy; cook and stir 1 to 2 minutes until browned bits attached to skillet are dissolved. Stir in cream, lemon juice, mustard and Worcestershire sauce; cook 3 to 5 minutes until sauce is heated through and slightly thickened. Spoon sauce over steaks.

Nutrition
| Serv Size | Calories | Total Fat | Cholesterol | Total Carbs | Protein |
| --- | --- | --- | --- | --- | --- |
| 6 | 327kcal | 18g | 100mg | 8g | 30g |
* The % Daily Value tells you how much of a nutrient in a serving of food contributes to a daily diet. 2,000 calories a day is used for general nutrition advice. 8g Saturated Fat; 6g Monounsaturated Fat; Carbohydrates; 1.6g Fiber; 9.3mg Niacin; 0.8mg Vitamin B6; 3.8mcg Vitamin B12; 3.9mg Iron; 34.3mcg Selenium; Zinc; 88.1mg Choline;
Courtesy of BeefItsWhatsForDinner.com