Adobo Beef Tacos with Pickled Red Onions
Create these mouth-watering grilled beef steak tacos for your next fiesta, topped with queso fresco, homemade pickled red onions and fresh cilantro.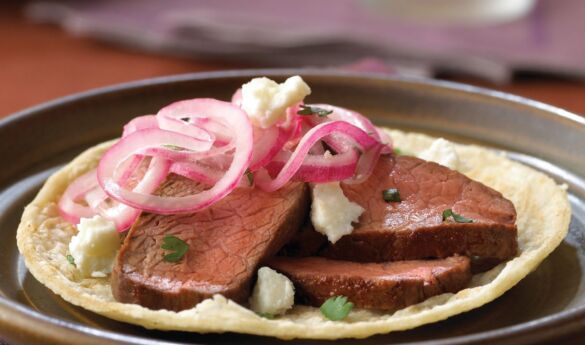 Ingredients
2 beef Flat Iron Steaks (about 8 ounces each)
8 small corn tortillas (6 to 7-inch diameter), warmed
1 cup crumbled queso fresco - Queso fresco is a white, slightly salty fresh Mexican cheese with a moist, crumbly texture. An equal amount of shredded Monterey Jack cheese may be substituted for queso fresco.
Chopped fresh cilantro
1 cup thinly sliced red onion
1/3 cup white wine vinegar
1 teaspoon salt
2 tablespoons honey
1 tablespoon smoked paprika - Regular sweet or hot paprika may be substituted for smoked paprika , but there will be no smoky flavor.
2 teaspoons adobo seasoning - Adobo seasoning is a spice blend used in Latin American cooking and usually contains garlic, onion, black pepper, salt, oregano, cumin and ground red pepper. If unavailable, 1 teaspoon seasoned salt, 1/4 teaspoon garlic powder and 1/8 teaspoon dried oregano leaves, crushed, may be substituted.
1 teaspoon ground chipotle chili powder - One tablespoon chopped chipotle pepper in adobo sauce or chili powder may be substituted for ground chipotle pepper, but there will be no smoky flavor.
40 Minutes
8 Servings
212kcal Calories
16g Protein
Cooking
Combine Pickled Red Onions ingredients in medium bowl; stir well. Cover and refrigerate while preparing beef.
Combine seasoning ingredients in small bowl; press evenly onto beef steaks. Cover and refrigerate 15 minutes to 2 hours.
Place steaks on grid over medium, ash-covered coals. Grill, covered, 10 to 14 minutes for medium rare (145°F) to medium (160°F) doneness, turning ocasionally.
Meanwhile, drain pickled onions well. Carve steaks into thin strips. Top tortillas evenly with steak, queso fresco and pickled onions. Sprinkle with cilantro, as desired.
Nutrition
| Serv Size | Calories | Total Fat | Cholesterol | Total Carbs | Protein |
| --- | --- | --- | --- | --- | --- |
| 8 | 212kcal | 9g | 45mg | 17g | 16g |
* The % Daily Value tells you how much of a nutrient in a serving of food contributes to a daily diet. 2,000 calories a day is used for general nutrition advice. 4g Saturated Fat; 3g Monounsaturated Fat; Carbohydrates; 2g Fiber; 2.1mg Niacin; 0.3mg Vitamin B6; 2.6mcg Vitamin B12; 1.8mg Iron; 17.8mcg Selenium; Zinc; Choline;
Courtesy of BeefItsWhatsForDinner.com